Saturday, May 10, 2008
Sometimes I cannot believe that I'm a mother. Seriously. I always said that I was going to be the single chick that hung out with friends and partied. The one with no responsibilities, not tie downs, and an awesome place to live. Well, of course, you can see that those thoughts and ideas where never brought around. Thank goodness.

My first pregnancy....Well, it was never meant to be. But because of that little life that was cut so very very short, I found that I really wanted to be a mommy. For the brief time I was pregnant, I was so happy, so excited. I just couldn't believe I was pregnant. But again, that baby wasn't meant to be, but I'm sure was sent to teach me a lesson. That baby is still very missed and still has a special place in my heart.
2
nd
pregnancy..Ohhh..boy. I was so scared. I tried to do everything right. I didn't care if I was paranoid or not, I went to the doctor with every little twinge and pain during the first trimester. By the second trimester, I had calmed down a bit and started to enjoy just being pregnant. Of course, that was thrown out the window when S decided to come 15 weeks early. The little stinker. We went through a lot with S. His
NICU
stay was, to say the least, horrid. But again, a lesson was learned. I learned how to have hope and faith. I learned how strong a child could be. How strong you have to be for your child, what an advocate you are for you child. Most of all? I learned patience. After his 92 day
NICU
stay..I had better have learned something! But now he is happy and healthy and the absolute joy of my life!
3rd pregnancy...And I thought I was scared with my 2
nd
! Ha! I can't say much about my pregnancy with A. I enjoyed EVERY moment, just in case it ended as quickly as S's pregnancy! I welcomed every pain, every ache and hoped to have more. Well, I got to 36w3d with him! I had to have him because I got
PIH
/toxemia. Lo and behold, he was fine, no need for supplemental oxygen of any sort and no extended hospital time! I'm gonna show a belly picture of me at 35 weeks, I never got a belly with S, so this was all a
surprise
to me! I was so happy after A was born. When I heard him cry and cry..it was seriously music to my ears!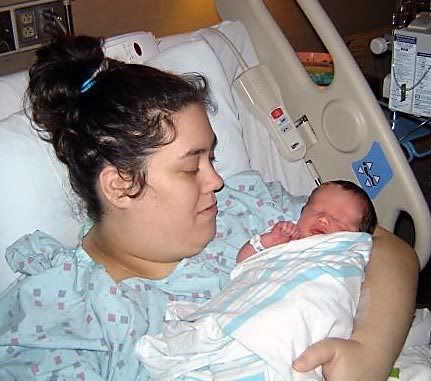 I have friends who are either struggling to have one more child, or facing serious infertility problems. I just wanted to say, that no matter what, as long as in your heart you hope and pray and try for a child, any child, you WILL be blessed with one. Sooner or later, a child will come to you in their time, not yours, but theirs. And it will be the best moment of your life. I hope that doesn't sound
insensitive
, but being a mother starts in your heart. That's the very best place to start.
Happy Mother's Day to all the mom's and soon to be mom's out there!
2 Comments:
~Denise~ said...

May 12, 2008 at 6:39 AM

 

Happy Mother's Day to you. I'm glad to hear your boys are doing well.

Best wishes to you and your family,

Denise

PS. I found your blog from a google alert I have set for PIH. I had preeclampsia with my first baby and PIH with my second.

Jen said...

May 14, 2008 at 11:42 PM

 

Happy Belated Mother's Day to you too. You are such a good mommy, and such a good friend.